TOARAZE ® MIXED FEED FOR AQUACULTURE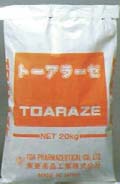 TOARAZE is TOA's probiotic for aquaculture animals. It is used as mixed feed to improve the effectiveness of feed, prevent water pollution, and increase yield in farming.
TOARAZE is formulated with three strains of live bacteria, E.faecalis T-110, C.butyricumTO-A, and B.mesentericus TO-A. It is confirmed that these bacteria has inhibitory effects on pathogenic bacteria in various parts of the gastrointestinal tract.
Benefits of TOARAZE
Increases feed consumption
Increases growth rate and body weight
Improves water quality
Improves gastrointestinal condition
Effects of TOARAZE
Adding TOARAZE
Without TOARAZE
Improved gastrointestinal condition in eels: The gastrointestinal condition was good in many eels in the TOARAZE-added pond, whereas punctuate hemorrhage and redness were more frequently observed in the control pond.
Increase in feed consumption by shrimp: Shrimp gathered to the feed containing TOARAZE (left) whereas a considerable amount of feed was left uneaten (right) when TOARAZE was not added, indicating that TOARAZE suits shrimp's taste.
Improved growth of shrimp: The stripe pattern on the body of netted shrimp from breeding ponds was clear for shrimp raisesd in TOARAZE-added ponds and unclear on a dark body for shrimp raised in the control pond (right). Both quality and production of shrimp were obviously improved by the addition of TOARAZE.